"We work hard to ensure the entertainment and fun of the users in this wiki, using our "walk a mile as if you are in the actual show" idealogy."
- Fire Nation representitive, Blazing Ahmad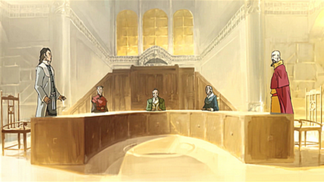 The United Republic Council is the governing, "decision-making" body of the wiki!  It contains a bender of every bending art, and the founder, who takes on the position of the Chairman.
Organization
Edit
Unlike the canon council, this council is made up of only one waterbender to represent the Northern Water Tribe and the Southern Water Tribe together, and no representitive of the Earth Kingdom, though the council is currently debating of such a representitive.
The chairman, who is the founder of the wiki, is, as the Council dubs him, "the Big Boss", as the guy who decides the final decision about a suggested idea. The other councilmen are limited to only suggesting idea, and waiting for the Chairman to agree or refuse. The Chairman also is capable of immediate usage of any idea he comes up with, without showing it to the rest of the council, making his position more of a monarch, though any councilman has the right to disagree and state his reason about the idea, but he can only prevent it whether the Chairman is convinced.
Once any Councilman goes inactive, a new member is elected by the council. However, the same can't be said about the Chairman, as he can only be replaced by anyone who re-adopts the wiki, which is in the hands of the Community Central of Wikia.
Currently Composed Of
Edit
Interestingly, the council has no official thread to talk on, though that might change.

The contents of this page is a subject to each, if the Chairman decides to.